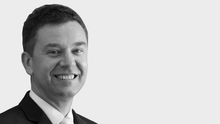 Determined and resilient, sales agent Robert Peel has the specialised skills to achieve excellent property prices in any market. He attributes this to his focus on consistently building a large buyer database, enabling him to sell most properties within a three to four week turnaround time.
A true professional, Robert thoroughly enjoys working with people in the Southport area and has been selling in the local vicinity for the past 14 years after immigrating to Australia from the U.K.
With his experience of selling in the area, Robert has excellent local knowledge needed when selling your most valued asset.
Robert's strong work background in the sales industry gives him great insight into marketing a property, to succinctly identify its strongest features and target each sales campaign to appeal to the right buyer groups.
Robert's relaxed approach and excellent follow-up have proved popular with buyers and enabled him to develop a high profile in the local area.
Committed to ongoing professional growth, Robert joined the Ray White Surfers Paradise Group for the strong branding and training opportunities the company offers, as well as access to the industry's marketing and support services to benefit his clients.
If you are considering selling your Gold Coast property, Robert Peel has the skills and experience to secure an excellent result.
Agent Reviews
Sam & Gavin- 17 Springwood Ave, Pacific Pines, QLD 4211

We meet Rob whilst looking for a house to purchase. We found him very helpful with all information we requested. After interviewing a number of agent we actually contacted Rob and asked him to sell our property. Rob sold our house after one open house at full asking price. settlement went smoothly and Rob was contactable at all times, always returning our calls very promptly. We were very happy with the sale of our house with Rob.
John Robinson

Excellent service right from first contact
Olivia

Great agent - sold for asking price after 3 days on the market
Marc Lyster- 3/24 Stevens Street, Southport

When I selected 5 stars for all of the above, I didn't just run my fingers across each one to show it was a good experience. I first met Rob a few years ago when I bought a property through him, he made it a fantastic experience - with excellent communication and expertise: I never thought about contacting anyone else when it came time to sell. Rob was an absolute pleasure to work with in every way, as soon as the property was listed their was interest- people went through the property without delay, Rob also reached out to a number of his contacts and database which generated even more interest. After a failed contact (managed so well by Rob) the property settled, at the price I was after, a fantastic experience and I couldn't recommend Rob and his team any more. If you're looking for results, and a brilliant experience - contact Rob without delay.
Joy Wang- 52 McAuley Parade, Pacific Pines

We are based in SA and Robert helped us negotiate and sold our investment property in Pacific Pines within 2 weeks. Superb communication, keeping us informed with every development of the sale. We couldn't be happier with the outcome. Thank you Robert, and your friendly team member Olivia.
Francois Satiowijaya- 3 Ward Street, Southport

Im very statisfied with my recent purchased. Robert is very professional, no nonsense, efficient agent, very knowledgeable. Highly recommended, and would definitely keep his number for future dealings
Sayed & Nasrin Khan- 17 Pandora Cres, Pacific Pines

Rob sold our house at Pacific Pines in September 2016. With his friendly approach, Rob discussed with us and developed a comprehensive marketing strategy.We found Rob as highly professional and very effective in negotiating price and getting the property sold. Throughout the process, Rob provided honest and effective advice from his extensive real estate experience that worked for us. He sold our house in a couple of weeks. We are pleased to recommend him.
Joe Cartisano- 3/43 Back Street, Biggera Waters

I think Robert is an exceptional real estate agent. As I kept insisting I needed a better deal for the sale of my property and Robert Patiently persisted until the property was sold.
Tim Morrissy- 2/19 Binstead Drive, Southport

Robert did a great job and got me the highest price. very very happy
Catherine Mills- 7/27 Chester Tce, Southport

It gives me great pleasure to note my admiration and thanks to such a fantastic salesman, Robert Peel. Robert first sold me a unit in 2009. Each year Robert would touch base to see how my unit was going and to note any interest if ever buying or selling that he would be happy to assist. In 2016 I decided to place my investment unit on the market and we had great success with Robert in a period of weeks securing a contract. He worked above and beyond what was expected deliverying great results. Robert provided us with an exceptional service and was a very personable Agent to deal with at all times. His professional and businesslike manner is excellent and knowledge of the market in general is always spot on
Greg & Janet Kelly- 60 Falconer Street, Southport

Rob had sound knowledge of the area and our type of property, which was a development site. He communicated extremely well all the way through until the contract went unconditional and was very understanding of our personal situation, showing empathy and concern for us, the seller, during a very stressful time. I thank him so very much for that. I have already recommended him to a friend and will do so again
Tim

Great guy easy to deal with great price
Terence & Deborah

Rob was extremely, helpful, knowledgeable, and friendly
Giovanni Ciro Picariello

Excellent :)
Charisse Blake

Rob and Olivia came all the way from the coast to sell my house in Brisbane.
Roya Majd- 36 Coombell Street, Jindalee

Rob was so pleasant from the moment we met at the first open house inspection until the end when the sale was finalised. He was very courteous, respectful and professional at all times which made everything flow so much smother.
Matthew Manton- 111 Falconer Street, Southport

Robert handled the sale of my investment property in Falconer street, Southport. He had been in contact with me for a long period, providing accurate market updates and information in the local market which was very useful. When it came time to sell my property the decision to use Robert was easy given his expertise and knowledge. He sold my house barely a week after listing it, for a good market price and kept working hard right up tot settlement. I would happily recommend him to any prospective seller
Jason & Jessica Reid- 47 Prince Street, Southport

A man that goes above and beyond and always seals the deal, at the right price too. We cannot recommend this gentleman highly enough.
Ross & Lavinia- 244 Queen Street, Southport

We were very happy with Robert as our agent. From the start, Rob was very professional. He presented us with quality information on the state of the market and a plan for marketing and selling our property. He was always very approachable and responsive to phone calls and emails. Nothing was too much trouble for him. We believe that the price Rob was able to negotiate was the best possible. We would have no hesitation in recommending Robert Peel.
Peter & Kerri - Nerang River Drive, Nerang

I was in a position where I couldn't use a local agent because of the work I do. So I decided to go out of the area for a agent. I chose Ray White Southport, and I am glad I did I come into contact with Mr Peel. He not only sold my house in 5 days he also got the the record price for my street. I have no hesatation in recommending Mr Robert Peel
Tim & Leah Johnson- 83 Falconer Street, Southport

Robert sold our property in 2 weeks. We were in nogotiations for a couple months and looking at selling with a number of agents. Robert was straight to the point and their was no crap involved. All the other agents gave us advise and facts that where not true like greasy car sales man. Robert was true to his word never told us a lie and sold our place fast and effectively. No lies, and he did what he said, communicated all the time, made the sale everyone one wins. Cheers Robert and Ray White for your help in selling 83 Falconer Street Southport
Bart Soon- 13 Johnston Street, Southport

Great agent. Always inform me of news and updates on inspection and happening during the sale. Would recommend Robert Peel to future property sellers...
Timothy - Falconer Street, Southport

Robert sold our property in 2 weeks. We were in negotiations for a couple months and looking at selling with a number of agents. Robert was straight to the point and their was no crap involved. All the otVenher agents gave us advise and facts that where not true like greasy car sales man. Robert was true to his word never told us a lie and sold our place fast and effectively. No lies, no crap, did what he said, communicated all the time, made the sale everyone one wins. Cheers Robert and Ray White for your help in selling 83 Falconer Street Southport
Rachel Hull - 202 Central Street, Labrador

Rob was recommended to me by a close friend when I decided to sell my property. At all times throughout the marketing and sale process, I found Rob to be an excellent communicator who was prompt in responding to my questions and requests. He reliably kept me informed every step of the way and his knowledge of the property market in my local area was invaluable to me. Rob provided appropriate and realistic advice regarding improvements I could make in order to attract buyers and clearly explained the best advertising options. Rob negotiated the best deal possible for me and I highly recommend him to anyone looking for these qualities in an agent.
Clinton & Jade Cooper- 53 Gordon Street, Labrador

Robert was very professional through the process of selling our home. He sold our property above and beyond what we even thought was possible. I would not only recommend him to others I will also be using him in the future, five star effort.
Mark Sullivan- 20 Joden Place, Southport

I have dealt with several agents in the past and would say Rob ranks highly amongst them. Rob has been accessible by phone and email whenever required and is always straight to the point. I wouldn't hesitate recommending Rob or utilising his services again in the future.
Richard Whear- 13 Johnston Street, Southport

Robert was everything we needed to sell our property, he was keeping us informed about what was happening at all times not once did we have to ring him. The thing we liked about Robert was that he told us exactly what the market was doing and what price he expected to get, He sold our unit in two weeks and we had gotten four offers in that time, when we excepted an offer he even worked hard and got us an extra 3 thousand dollars. We take no hesitation in recommending Robert to anyone wishing to sell their property.
Julie Gerely- Marsupial Dr, Coombabah

Great negotiating skills and excellent communicating between all parties. I would highly recommend Robert to others looking to sell.
Bernie Frauenfelder- Oxenford

Choosing an agent can be a difficult task to manage. Honesty, market knowledge, communication & a strong desire to get the best results were the key components when choosing Robert Peel & Ray White Southport. A systematic approach by Robert & his team sold my property and achieved a price higher than what was expected by the market. I recommend Robert & Ray White Southport to get the job done seamlessly & professionally.
Kerry Little- 3458 Main Beach Pde, Surfers Paradise

Thank you Robert for all your assistance with the sale of our investment property in Surfers Paradise (February 2015), Finding the right investment purchaser and seeing us through to settlement was greatly appreciated. Always being able to answer all our questions, liaising with rental property agents during sale/settlement process and generally being available to assist with all other issues that may present themselves during the time before settlement changeover date. We wish you continuing success for all your other listings and all the very best for any other real estate endeavours. Kind regards Kerry and Danny Little, and Tarita Frain.
George & Margaret Stodolak- 142 Kumbari Ave, Labrador

We were very happy with our overall experience with Robert Peel. We would definitely do business with him again and would recommend his professional, informative service to others.
Peter Byrnes- 113 High Street, Southport

Excellent service and communication.
Connie Metcalfe- Bauer Street, Southport

I first met Robert when I purchased my current residence. I was very impressed with his honesty and knowledge of the property market. I was so impressed that I asked him if he would be interested in selling my old place. Robert accepted and my property sold within a day. I couldn't believe it sold that quickly. He was such a pleasure to deal with I didn't want it to end. If I am ever in a position to purchase or sell a property again I will have absolutely no hesitation in asking Robert for his help. I can not express enough how greatful I am that I met Robert when I did. One extremely happy Robert Peel customer Connie Metcalfe Southport, Qld
Sergio & Maria Cudicio- 8/20 Little Norman St, Southport

We had originally bought the unit that we just sold through Robert about seven years ago, we where happy then and we are happy now with Robert, he is very professional and has very good communication skills. We would not hesitate to recommend Robert to anyone for there real estate transaction
Corrine Turton- 52/138 High Street, Southport

Back in 2012/13 I was an out of state investment buyer and was put in touch with Rob through a mutual friend. He helped me source a suitable investment property, and represented me as a buyers agent during the auction process. I managed to grab a great deal and I was ecstatic with the outcome. Last year in 2014, I sold the same property with him and I managed to make a capital gain! I was very happy and even more happier for Robs help during the actual sale- the laws around buying, selling and finance are a lot different to NSW and I really could of been in a bit of trouble without his expert knowledge! I would undoubtedly use Rob again to purchase and sell again on the Gold Coast and recommend that any astute investor or home buyer use his services.
Rory Scott- 27/63 Olsen Ave, Labrador

Robert is a great agent, who you can tell prides himself on his work. He's always contactable and eager to answer any questions. Pleasure doing business with him.
Anthony & Kelly Barrett- 3/37 North Street, Southport

I found Robert very professional and nothing was a hassle. Every time I needed to call him about something i wasn't sure about he always answered the phone and was very helpful. I highly recommend him to anyone looking to buy in the area
Lori Solitro- 212/132 Marine Pde, Southport

I highly recommend Robert Peel from Ray White Souhport. He kept me informed from the listing right through to the sale of my unit. Thank you for a job well done !!
Kade Lancaster- 3/37 North Street, Southport

Very happy with Robert Peel's expertise and effort in selling the unit in Southport. Fought hard to secure the best selling price possible, always kept us updated and offered professional advice all round. Would not hesitate to recommend Robert to others looking to sell. Thank you
Allison Gillett- 2/47 Usher Ave, Labrador

We have no hesitation in recommending Robert Peel as our real estate agent of choice. Robert worked closely with us throughout the auction and sales process keeping us informed and advising of our options at the various stages. Robert's most outstanding quality was his ability to think quickly and adjust the game plan to suit the situation. In the current market with significant uncertainty this was a quality that enabled us to side step the auction process in order to gain the best price for our home. Robert kept in contact with interested parties throughout so there was always a back up plan if the sales conditions were not met. At the end of the day our confidence in Robert's commitment to sell our home for the best price made the process relatively stress-free and we have nothing but praise for the professional yet approachable manner in which he conducted himself at all times. Thanks Robert.
A. Young- 2/64 Botanical Drive, Labrador

Did a great job and exceeded our price expectations!
Roman Aberl- 102/590 Pine Ridge Road, Coombabah

Hi all, It was an absolute pleasure to deal with Robert Peel. From the get go, Robert was pro-active and advised me on all of my options on selling. He was quick to get the ball moving with the photos of my investment property. He promoted my investment property in a positive light and I achieved full sale potential within a two week period. No hassles. No fuss. Job Done! As an owner of an Small Business, I am a busy man with little time on hand as such I would recommend Robert to my friends and family. Thanks Robert. Regards, Roman David Aberl
Rocky & Cherry- 22004/5 Lawson Street, Southport

Robert really communicate with us well. As owners we can put 100% trust on him.
We were very happy with the services provided by Robert during the purchase of our property. He was kind and helpful and went out of his way to assist us in the process, as we both work full time. This was a great experience and we would recommend Robert to our friends and family.
Anne-Marie Butcher- 27/16 Sykes Crt, Southport

Thanks Robert for your expertise and local knowledge. Being interstate investors wishing to sell our unit we were reliant on Robert's excellent communication and knowledge of the local market to guide us with this sale. Robert was even able to assist us with access to local businesses to ensure the unit was given a tidy up to present it in the best possible way. Robert's expertise lead to a quick sale with a minimum of stress. We certainly would recommend Robert to others.
Martin Lam- 12 Nesbit Street, Southport

Was thoroughly impressed by Rob's attention to detail, professionalism and willingness to help. Couldn't have asked for a better agent.
Perry & Rita - 17 Nakina Street, Southport

Robert performed his job and advised on how to advertise.
Glenys Merrifield- 5/97 Eugaree Street, Southport

Robert Peel was recommended to me as a reliable, well-performing agent. As an interstate owner, it was not possible for me to check the condition of the property, and engage the right tradespeople to do what was needed to get the property up to scratch. Robert was there for me every step of the way, always courteous and personable, and kept me in touch with updates and information. Robert sold my property within the first two days on the market, at the listed price. It was an outstanding effort and I would recommend him to any owner looking for outstanding service.
Jeff & Wendy Russell- 31/45 Pohlman Street, Southport

Over the last 5 years we have bought 3 properties with Robert and he has just sold one of them for us. When we decided to sell one of our units in Southport we were worried that if might be difficult to organise things as we live in Bundaberg. Robert was so helpful, he organised a painter to repaint the unit and a carpet layer to replace the carpet ready for sale, we didn't need to worry as he took care of everything for us. No hard sell just a decent easy to deal with professional who knows the area and the real estate business. We have always trusted his judgement and sound advice when buying and selling property with him. Thanks Robert we won't hesitate to call you when we are ready to sell our remaining 2 investment properties.
Giselle & Martin & Patricia - 130 Falconer Street, Southport

Robert Peel is a most professional and on the ball real estate salesman who has been extremely ethical in all my dealings with him .His attention to detail and work ethic is always on show and I have no hesitation in recommending him.to any perspective client
William Miles- 9 Kathleen Ave, Southport

The sale of my property posed some problems as it was not prime real estate. However, Robert was always positive and his approach to the whole process was calm and measured. He tempered a lot of my anxiety with his measured approach and eventually got a sale in a timely fashion and without a lot of fuss. He was readily available and kept me in tune with any developments as the marketing and sale process went along. He was a pleasure to have as my agent and he produced a satisfactory result in a property that could have been difficult to sell. I do recommend him to any other prospective clients.
Nicole Alchin- 27/71 Olsen Ave, Labrador

I dealt with Robert Peel some years ago to purchase my property. I was very happy with his service during that time, and his follow up service, so I called him when I was ready to sell. Robert is courteous, friendly and professional in his dealings with me.
Dan Frauenfelder- Texas Crt, Oxenford

It's quite simple really; Robert put his hand up for the task, gave me his recommendations on what could be done with the property to enhance the chance of sale and assured me that he would put all his efforts into making sure a good price was achieved come auction day. And he delivered what he said he would. Robert is honest, straightforward, knowledgeable and competent...there's little more one could ask for in an agent. 100% recommendation from me.
Geoffrey Dengate- 17/60 Whitby St, Southport

Robert quickly sold our property. I would recommend him to all other sellers